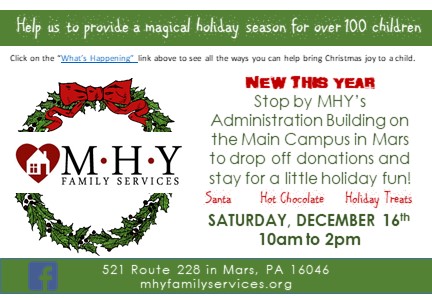 MHY's Christmas Giving Program
---
The Christmas Season is fast arriving, and this year MHY will provide gifts to more than 100 children throughout our programs. For many of these boys and girls, it will be a holiday season away from friends and family. I hope that you will consider supporting the MHY Family Services Christmas Giving Program to help provide our youth with a very Merry Christmas!
Click Here to Drop Off Donations
For Financial Donations Click Here
Please drop off unwrapped Christmas gifts to the MHY Family Services Administration Building, 521 Route 228 Mars, PA between Monday, December 11th and Friday, December 15th, 9am to 4pm and Saturday, December 16th from 10am to 2pm.